Coverage
R1-1's minimum usage as topping is required from 12-24mm/m2.
Each square meter requires 26KG at 12mm thick.
Customization
Workability can be designed based on the customers' specifications. R1-1 also has extended workability version for larger resurfacing needs, and for air pin holes grouting version.
Surface Preparation
* All Substrates must be structurally sound and stable.
* Be Sure no dirt, tar, asphalt, wax, oil, sealers, loose toppings, adhesive residue, glaze on the all substrates.
How to Use
1. Use Bonddex R1-1 directly with mixing 12.5-13% of the water when the depth is in between 12-25mm. 30kg of R1-1 x 0.125= 3.75kg of the water per bag. For larger area, it is recomanded to be used 14% of the water per kg.
2. When the depth is more than 25mm to 50mm. Mixing additional 50-80% of the cleaned 3-5 (mm) aggregate is strongly recommended. Water ratio will be 8%-10% of the total weight.
3. Bonddex R1-1 can also be used as fast setting concrete mix. Aggregate sizes to be mixed for concrete slab rebuilding jobs: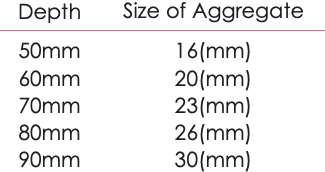 ※ The particle sizes to the aggregate is 1/3 of the repairing depth. And use 7% of water usage to the total amount.
※ R1-1 : Aggregate : Water = 1 : 1 : 0.07.
(e.g. 30kg of R1-1 + 30kg of aggregate= 60kg,
60kg x 0.07= 4.2kg of the water usage.)
4. The usage is 2400kg per CBM, using 1200kg of Bonddex R1-1 with 1200kg of the coarse aggregate. Weighting carefully for both material and aggregate are extremely important, and water usage can be slightly adjusted based on the aggregate absorption to the water and overall conditions to the weather.
VIDEO